What is Muay Thai?
Muay Thai, also known as the Science of 8 Limbs, is the most effective striking Martial Art in the world. You will learn to use all the best striking surfaces your body has built into it: punches, elbows, knees, and kicks. Muay Thai focuses on effective strikes based off your distance from your opponent.
You can build a solid foundation for Muay Thai in a matter of months but what keeps it exciting is learning to master range awareness, being able to react quickly enough to utilize the space you have, and finding new ways to outmaneuver your opponents. Many people look to Martial Arts for self-defense but in reality, most traditional forms of Martial Arts would never really work in a self-defense situation. Muay Thai was developed specifically for fighting, which in our opinion makes it the best form of self-defense.
What is the difference between Muay Thai and Kickboxing?
Kickboxing utilizes the 4-point striking system (punches and kicks) while Muay Thai utilizes the 8-point striking system (punches, kicks, knees, elbows) and the 'full' clinch.
Some kickboxing rules allow for a partial clinch from which 1 strike can be thrown before the ref resets the fighters. However, in Muay Thai, competitors do not reset once they clinch but must attack and defend while staying active; a reset only happens when both parties are inactive in the clinch. In Kickboxing kicks are only allowed ABOVE the belt (no low kicks). Throws and sweeps are not allowed in Kickboxing but allowed in Muay Thai.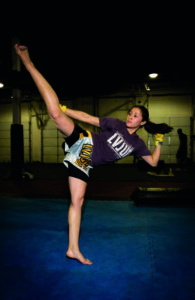 "Before I started training Muay Thai in the Spring of 2010, I would never have considered myself an athlete. I never imagined that I, a scientist, would step into the ring and compete. Seven years later, my amateur record isn't perfect but looking back at each competition, I realize each one was different. Each one reflects a state of me technically and mentally as a Muay Thai practitioner. As coach Jason puts it, "We just keep chipping away everyday…It's a never-ending experiment."
I have been a spectator and participant at numerous boxing and kickboxing events and it's a fact that Coach Jason's students have the best striking skills. I'm so confident (and excited!) that I will achieve my goals with the level of training under Coach Jason Farrell."
Erin Jimenez – World Champion and PHD Candidate at John Hopkins University