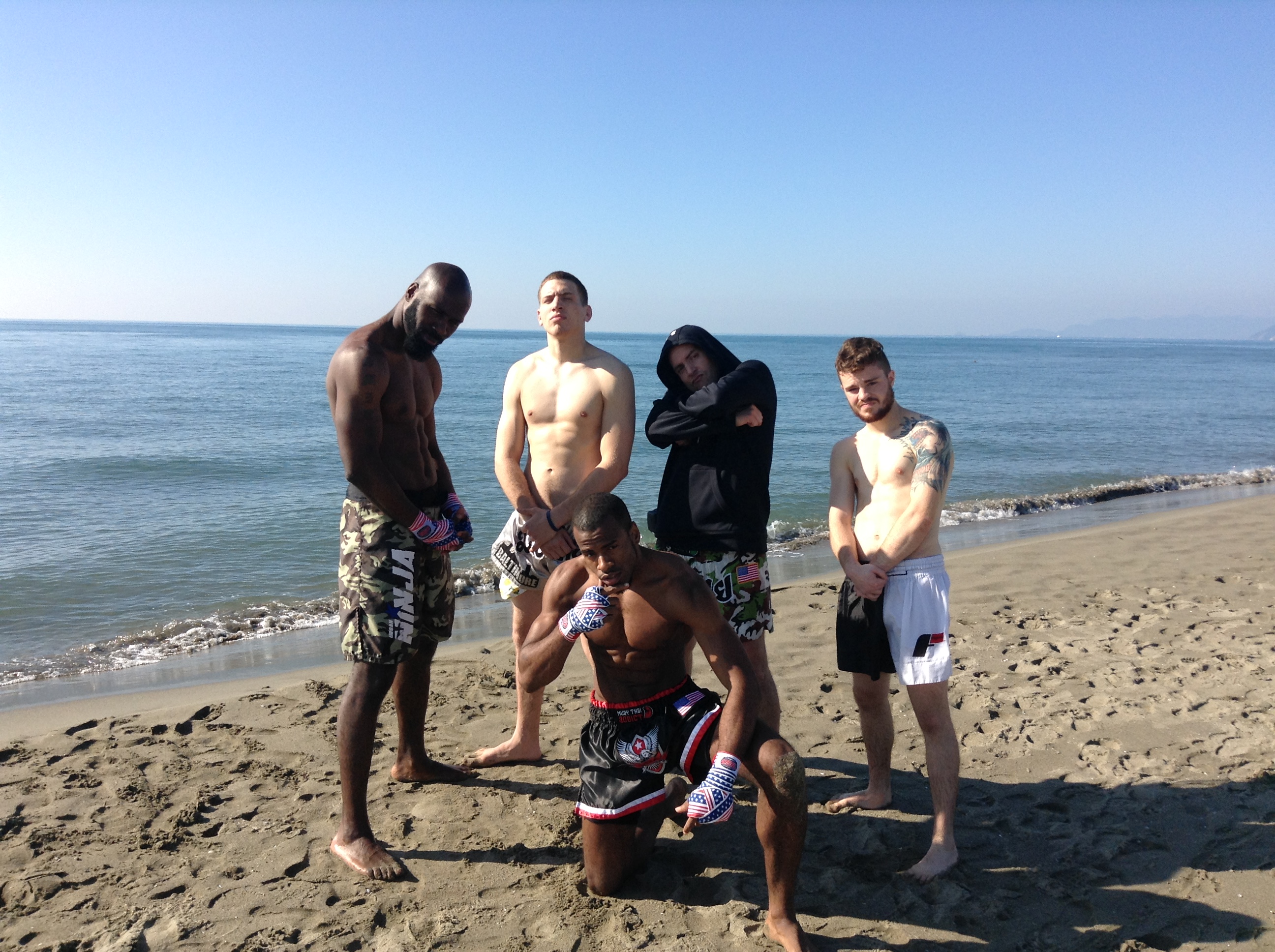 Day 2 was a free day for the Team.
We started the day off on the beach training. We warmed up with a light jog. Got in a few rounds of shadowboxing, light sparring, and mittwork. The sand took a little adjustment. We were all careful not to go too fast or too hard being so close to the competition. Sand aside, you couldn't ask for a better setting. The Mountains on one side, the Ocean on the other. After training we walked down to the water for a bit. You had to appreciate where these guys had gotten themselves. Earning their way on to this team, and drumming up the money to get themselves there. This is fighting at it's purest, doing it soley for the love of the sport. We spent about two hours training before we headed back to the Hotel. Everyone on the team was planning to head out to explore some of Italy while we had free time.
We decided to head to Pisa. It was only a short train ride away. A bunch of the other teammates did the same. We took a cab ride over with the Hotel's go to Cab driver Sanki. He laughed at us for going to Pisa saying it was small. At first I was confused why anyone would deter us from seeing something as famous as Pisa. After thinking about it though, I know I have personally told people who came to visit DC that the sites weren't that great. I guess when you spend so much time around something you stop seeing it's value. We felt there was no way we could be this close and not come see the Leaning Tower. Just as someone who traveled from far would want to see the White House or Washington Monument. When we got off the train we had a general idea of which direction to travel in. The Tower was visible from the train platform. We found the Cathedral Square and cruised around for a bit taking photos. It's funny to see all the people getting their shot of them holding up the tower. I snapped a picture out of context to show how bizarre everyone looks outside of their personal picture. After walking around for a bit we grabbed some food. In front of the Cathedral Square there was market area filled with street vendors. They all had the Pisa keychains and t-shirts, one thing that jumped out at us was this Camera attachment we saw a few people with. It's an extendable pole that lets you attach your cellphone too to take a selfie with. They sell a remote camera shutter also to take the shot without having to touch the phone. This thing is going to revolutionize the selfie world, we dubbed it the helpie. 
As the sun started to go down we decided to head back to the train station. We had a confusing time coming back as the train we got on took us a different track back then the way we came. After train hoping a couple times, and missing our stop once, we made it back in one piece. To our suprise when we walked out of the station Sanki our Cab driver was already waiting. I'm still not sure how he knew to be there. Once we got back to the hotel we all turned in to prep for the first day of competition. 
TO BE CONT…..